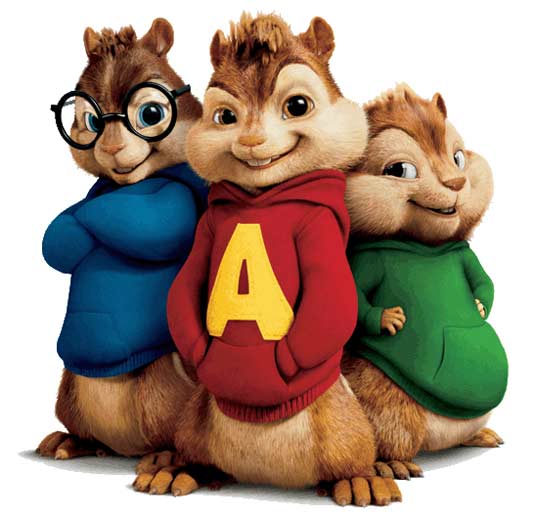 Alvin and The Chipmunks

Just yesterday, I went to Queensbay Penang GSC to watch Alvin and The Chipmunks 2 at 5.50pm. This movie has been released since boxing day, which is on 24 December last year. As a summary, I feel Alvin is quite stubborn at first. The most important thing is we must respect our family. Conclusion, when I watch this movie, the Chippettes debut is lovely! But at the end of the movie, I look at my clock showing the time is now 7pm. That was a 1 hour and 15 minutes movie. Too fast lah, I wish I can watch Avatar cuz last month I had an anger for online seat booking for Big Cinemas at Alor Star Mall. Until the credit card has been charged, the internet connection interrupted and booking number haven't shown on the screen. Why it took so long? So I just hit the "refresh" button and voila! Error is occured! Hey...! I should blame internet for this... RAWR! It makes me to avoid watching the best movie of the year. Sad Sad. Btw, the cinema ticket counter showed me there is no booking under my name but credit card has been charged. Well, too bad for me and my family. T_T

Alvin and The Chipmunks 2: I rate 3 out of 5. Reason: Chipmunks and Chippettes are cute! Cons? I think the storyline should be better than this.

Before I went into seating, my friends bought 4 regular combo, which gives 2 limited edition "Cloudy With The Chance of Meatballs" umbrella. Ela, ela, ela, ehh....! 1 regular combo costs RM6.20 which consists of a popcorn and a large Coke.

The limited edition umbrella.

Within the first week of Semester 3 @ college, I had overspent some for the engineering drawing tools. Now I am feeling worried that how could I survive without money. Gosh! I gotta find some way to earn back some money. At first, I got some idea how to earn money. The most common way people earn money is by working part time. But now I am studying full time. My timetable is almost packed if I start to work part time. Another way to earn money is my own secret. Just slow and steady lah! Part time blogging perhaps? Hmmm... I never thought about blogging until a friend open his blog and show to me. When I read his blog, my mind pops up a lightbulb. "Why not I can try to blog for my own?" So there I go, starting up my blog, share stories with some close friends, intro here and there, improve my English while writing a blog like an essay, etc. Finally, I am quite happy for what I am doing now. My passion for blogging is simply irresistible. But I still lack of one important thing I need it the most, a nice camera. DSLR camera is the bloggers' best choice for photoshooting which gives a sharper and clearer images using different kind of lenses. What I have now? A phone with VGA cam plus blurry pictures. Hopefully I can get at least a better camera phone with high megapixels, most preferably DSLR of course! :P

Okok! That's all for now! Now I am gonna work hard to achieve my dream. Thanks for viewing my blog!

Adios everyone! Cheers! ^_^v